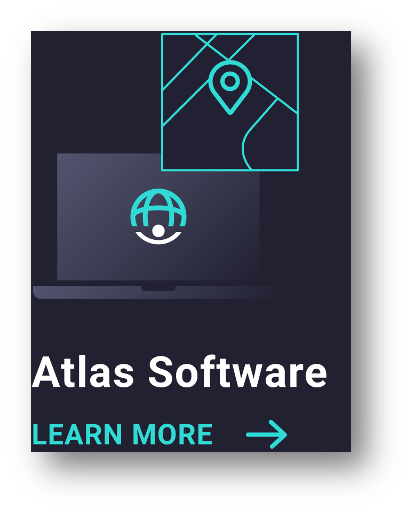 ATLAS Insight is a Fleet Management application for TPMS (tyre pressure monitoring), tracking and security. Aimed at OTR (off-the-road) and commercial vehicles, it provides early warning of alerts enabling swift analysis of the problem and leads to immediate resolution.
Monitor the health of a vehicle during its journey and see at a glance whether there are any problems along the way and where the problem occurred.
Within the ATLAS system alerts are received from an ATLAS (Advanced Fleet Management & TPMS Gateway) over the Internet and displayed on a by-exception dashboard. Data from a number of sensors mounted within a vehicle or machine are logged and available for analysis. Information gathered from a multitude of sensors provides valuable insight to the performance of the machine in the field allowing swift action to protect your assets.
Fleet Insight At Your Fingertips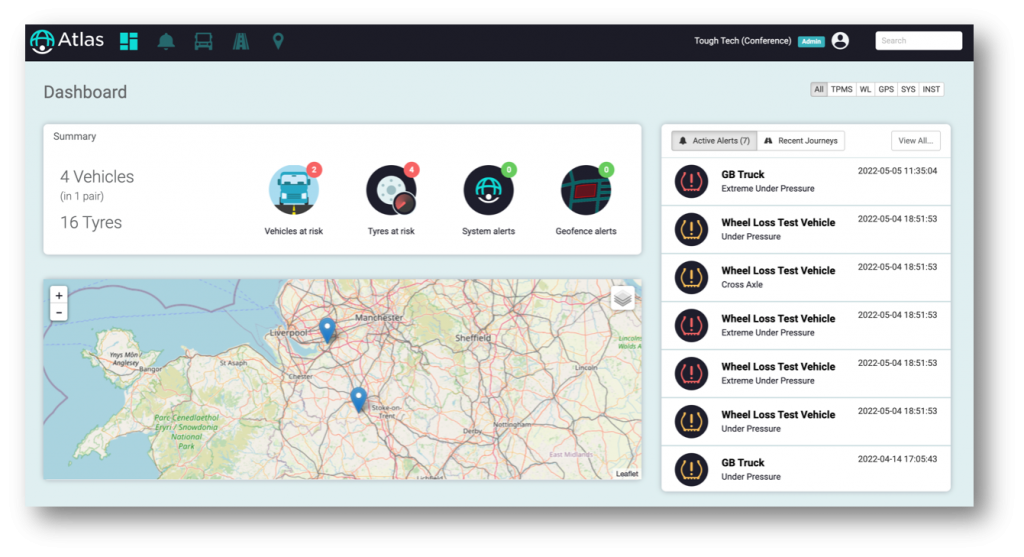 Dashboard
The Dashboard provides a "by-exception" view on the estate of vehicles. Alerts are highlighted with easy navigation to triage the problems
---
Installation View
The Installation view gives instant feedback on the quality of the installation. Any problems are highlighted and can be corrected immediately.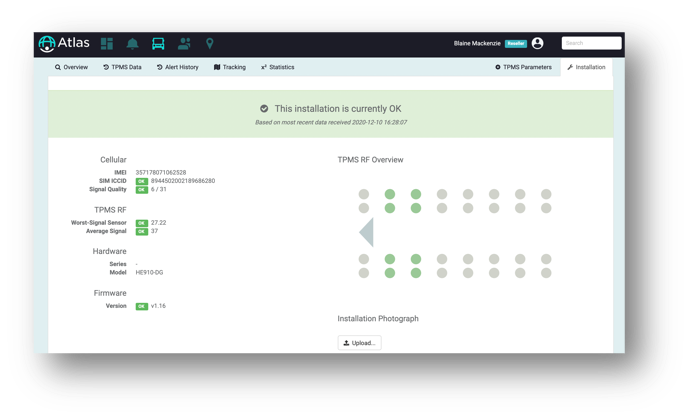 ---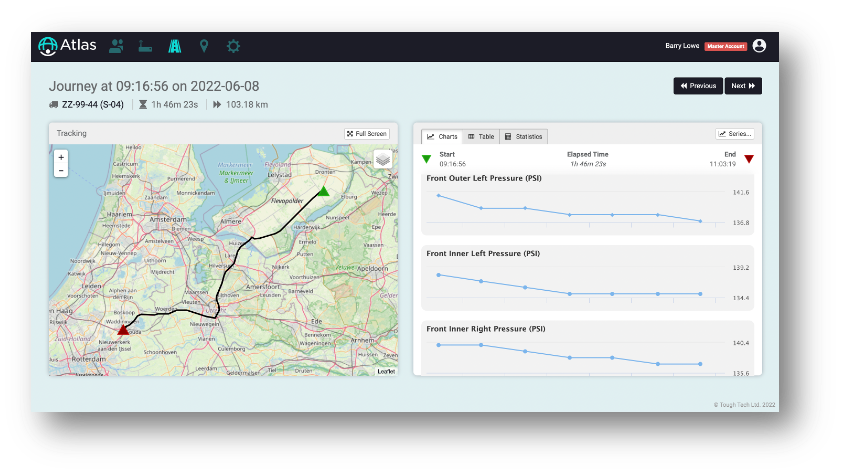 Journey Health
Tracking key parameters along a journey showing exactly where a problem has occurred.
---
Satellite View
Track machines throughout the quarry and identify any problem areas and activity levels.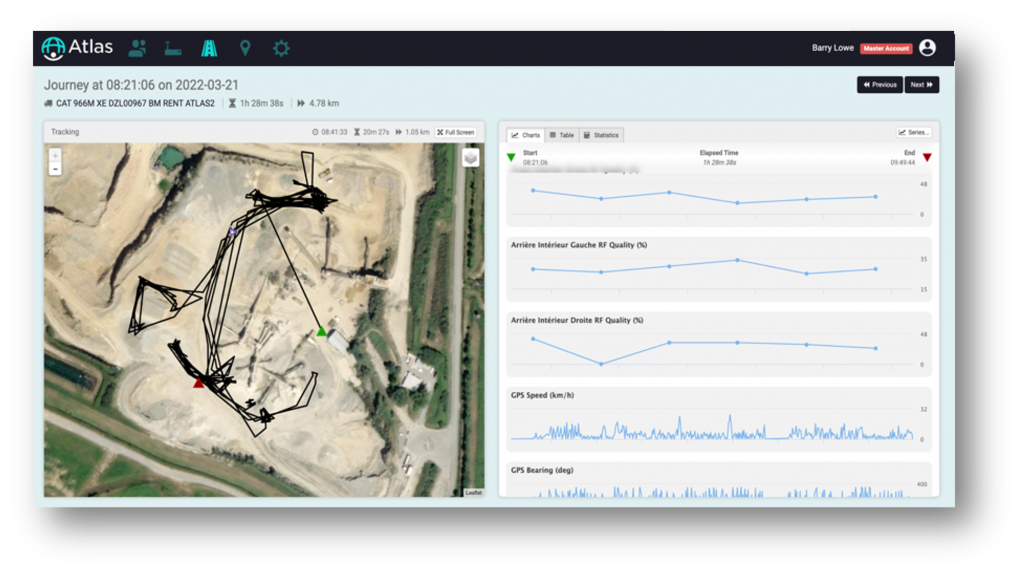 ---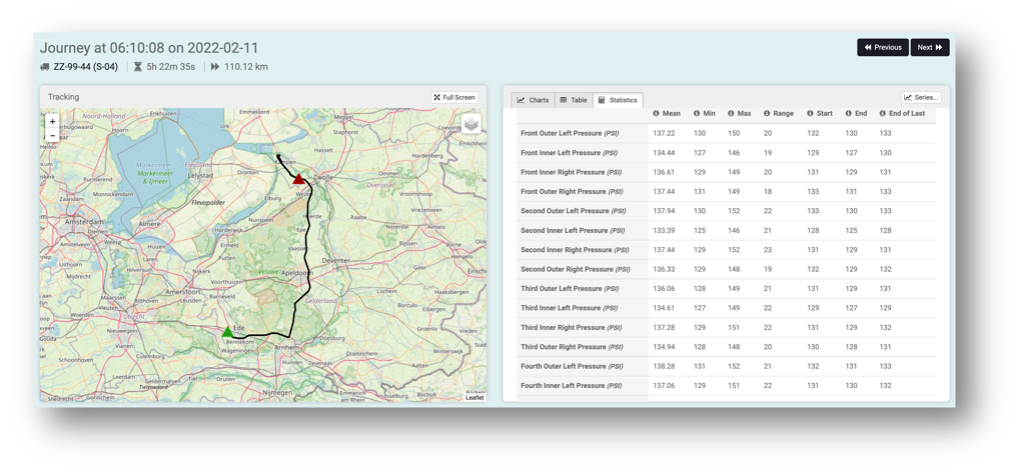 Journey Summary
Summary of key parameters on the journey – easily see the highs/lows and range of each parameter.
---
Vehicle Overview
Visual display of tyre pressure and reason for alert.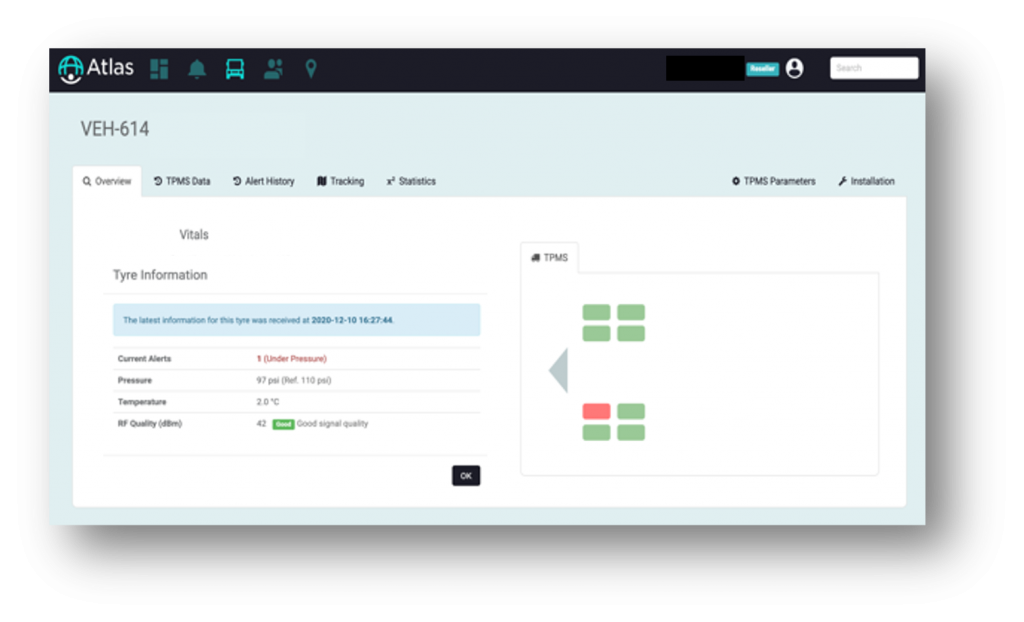 ---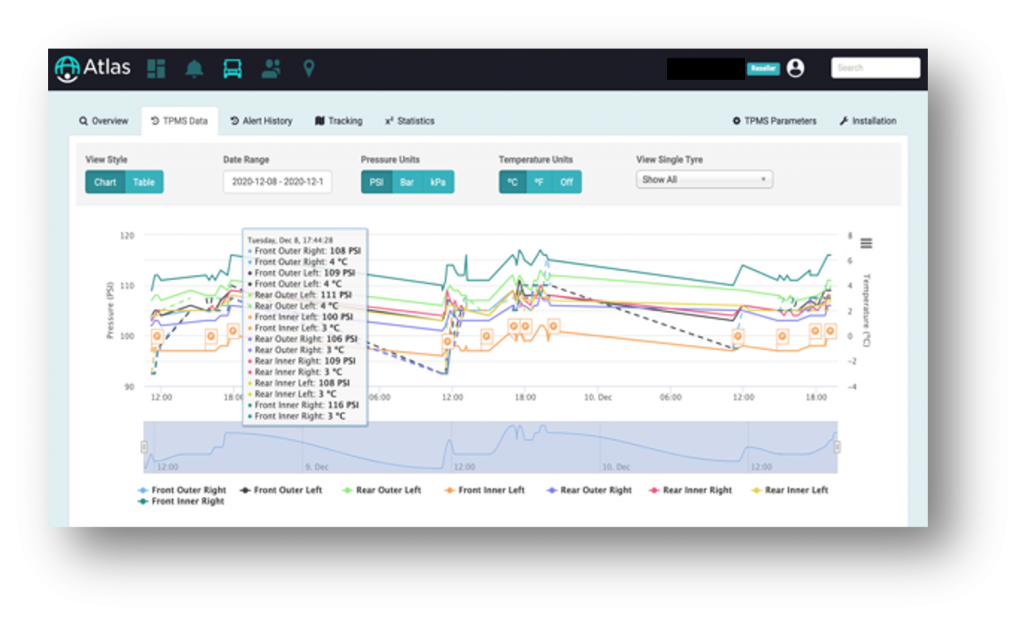 TPMS Data – Graph
Visual TPMS readings in graphical format can be used to identify tyre pressure or temperature issues.
---
TPMS Data – Table
Visual TPMS readings in tabular format can be used to identify pressure and temperature issues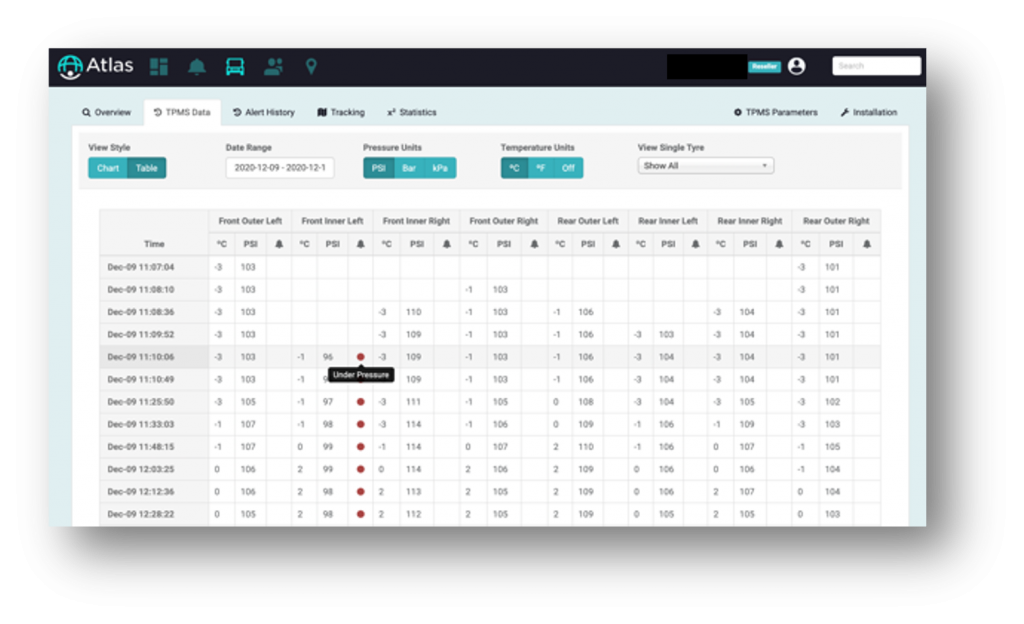 ---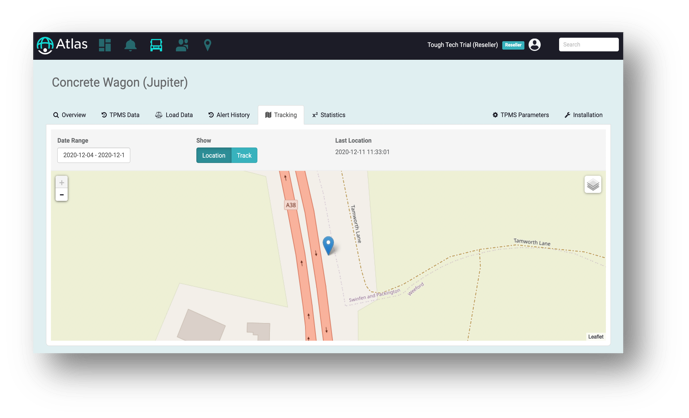 Tracking & Location
On board GPS shows vehicle location and tracking of the vehicle.
---
Fleet Management – Estate Reporting
TPMS: Tyre estate health reports can be set-up and emailed on a defined schedule.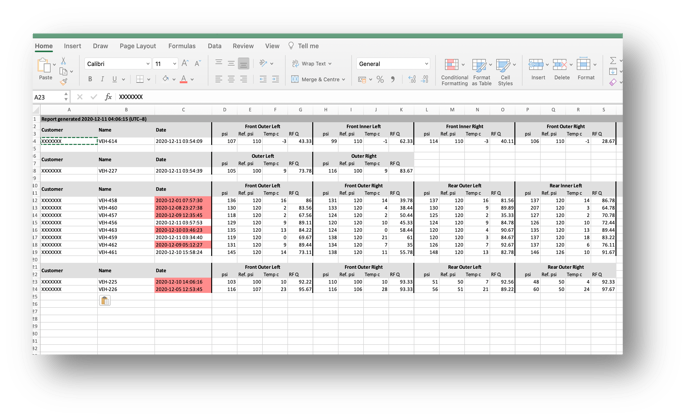 ---
Much more than a fleet management application for TPMS……
ATLAS is a very flexible, user friendly, fleet application with a variety of sensors and sensor inputs/outputs available. It lends itself to a vast range of functions required from a vehicle but can be easily customised to monitor unique electronics that are installed. OEM integration can therefore monitor every aspect of a vehicle or machine and provide a platform for superior customer service. A branded ATLAS system could save months of time and R&D pounds!
Much More Than TPMS….
ATLAS has many features beyond TPMS such as Tracking, Security, Axle Load Monitoring. Find out more….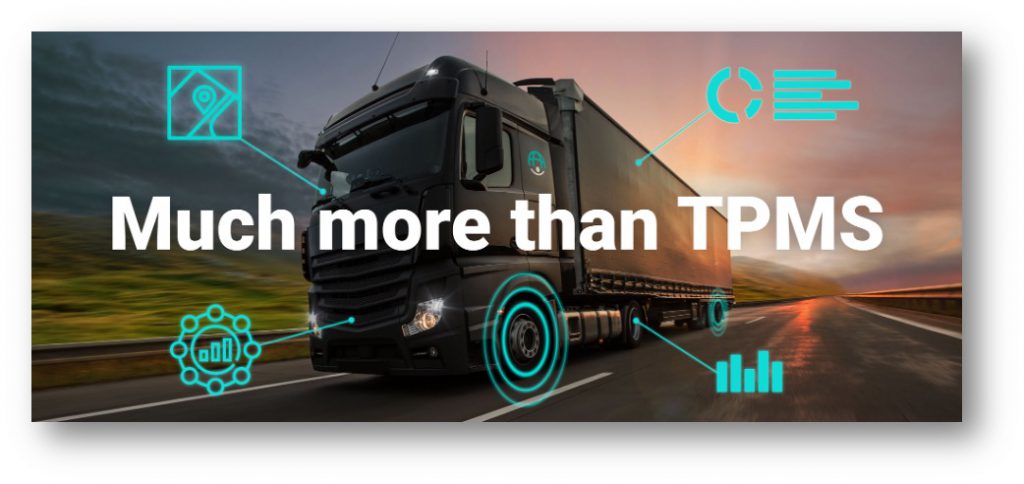 ---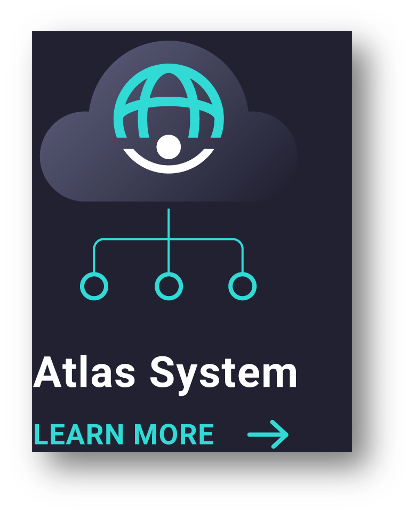 ---